FREE WEBCLASS

with ANDY TANNER
Rich Dad Advisor and Founder of The Cash Flow Academy
How To Invest AFTER The Corona Crash
First we showed you how to protect yourself during the crash... then how to find and take advantage of opportunities in the early part of the recovery... now it's time to give you these important insights of Phase 3 of this crash:
Why the market recovered so quickly... and how this information will help set you up for long-lasting success
Determining the risk of another drop... so you can protect yourself further and be prepared for additional opportunity
How to invest NOW in this new environment... you'll learn about the forces that WANT you to win in stocks right now
Register now, your weblcass begins in:
Discover how to invest in this historic market:
"How To Invest AFTER The Corona Crash"
Thursday, June 18th
8pm Eastern (5pm Pacific)
Free to attend, just register below
Register for "How To Invest AFTER The Corona Crash" Live Training
Free webclass shows how smart investors can safely find excellent investing opportunities in the middle of these market conditions.
We value your privacy and would never spam you
Join Andy at this live event to discover for yourself:
How to PROTECT your current positions now and in the coming weeks
How to hunt for BARGAINS in this historic market of opportunity
How to create NEW CASH FLOW now... even with small accounts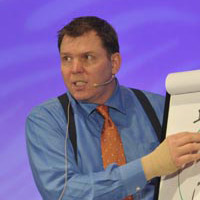 Investor, Author, Speaker, Trainer
Andy is a renowned paper assets expert and successful business owner and investor known for his ability to teach key techniques for stock options investing. He also serves as Robert Kiyosaki's Rich Dad Advisor for Paper Assets.
As a highly sought after educator, Andy has taught tens of thousands of investors and entrepreneurs around the world. He often speaks to students at the request of Robert Kiyosaki, showing how paper assets can fit into the Rich Dad system of investing. In 2008, Andy was key in helping develop and launch Rich Dad's Stock Success System, which teaches investors advanced technical trading techniques to profit from bull and bear markets.
He is the author of two books: 401(k)aos and Stock Market Cash Flow. In addition, he has created a popular training program called The 4 Pillars of Investing which gives investors a solid foundation of knowledge. He also records his weekly trading sessions with his mentors called Andy's Mentor Club for anyone to watch and see how professional investors make real investing decisions.