INSTANT REPLAY – Important new updates for investors looking to succeed in this fragile market
HOW TO INVEST DURING THIS CRISIS
Discover
what happened to the market in March

... what is happening

now

...
and

what to expect in the near future

for your investing success
Time-Sensitive: Watch The Full Replay Now
"Andy Tanner is the only stock advisor I trust"
— Robert Kiyosaki, Author of Rich Dad, Poor Dad
Join me as I give you answers
With devastating unemployment numbers, how did the market recover so quickly?
With a catastrophic 32.9% drop in U.S. GDP, why do stocks continue to surge?
As the Federal Reserve has printed $1.4 TRILLION new dollars, why is the market so bullish?
Will a COVID-19 vaccine help or hurt the market's onging recovery?
Discover these critical insights from our team
Last March we helped thousands of new students navigate these uncharted waters
It's not too late to start learning because the market is set to fall again at any time... we'll show you why
You'll discover how to prepare and be ready when it happens... and how to continue prospering even if it doesn't
This time you can be more confident than ever before to succeed as an investor
Register now for this INSTANT REPLAY webclass
"How To Invest During This Crisis"
Available instantly right now
Free to watch and learn, just register below
Time-Sensitive: Watch The Full Replay Now
Learn to
think clearly

and

act confidently

in this opportunity-filled market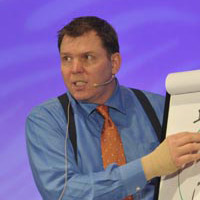 Investor, Author, Speaker, Trainer
Andy is a renowned paper assets expert and successful business owner and investor known for his ability to teach key techniques for stock options investing. He also serves as Robert Kiyosaki's Rich Dad Advisor for Paper Assets.
As a highly sought after educator, Andy has taught tens of thousands of investors and entrepreneurs around the world. He often speaks to students at the request of Robert Kiyosaki, showing how paper assets can fit into the Rich Dad system of investing. In 2008, Andy was key in helping develop and launch Rich Dad's Stock Success System, which teaches investors advanced technical trading techniques to profit from bull and bear markets.
He is the author of two books: 401(k)aos and Stock Market Cash Flow. In addition, he has created a popular training program called The 4 Pillars of Investing which gives investors a solid foundation of knowledge. He also records his weekly trading sessions with his mentors called Andy's Mentor Club for anyone to watch and see how professional investors make real investing decisions.