Understanding the VIX for Cash Flow
Plus, scroll down for a free ebook from Andy Tanner
Get Andy Tanner's FREE eBook...
You need to know that I will do everything in my power to get you where you want to be. I also expect you to do your part and follow what I am teaching. This isn't magic. But it works, because everything I'm giving you is based on rock-solid principles of smart, safe investing.
You're going to be pleasantly surprised on how the stock market allows you to make money with even just a little bit to invest. Then, as your knowledge and skills grow, you can grow that little seed into a bigger and bigger account with more and more cash flow. That's how fortunes are made the safe and steady way.
Join me on this journey! I'm here to guide you every step of the way.
About Andy Tanner
Andy is a renowned paper assets expert and successful business owner and investor known for his ability to teach key techniques for stock options investing. He serves as a coach to Rich Dad's Stock Success System trainers and as the Rich Dad Advisor for Paper Assets.
As a highly sought after educator, Andy has taught tens of thousands of investors and entrepreneurs around the world. He often speaks to students at the request of Robert Kiyosaki, showing how paper assets can fit into the Rich Dad system of investing. In 2008, Andy was key in helping develop and launch Rich Dad's Stock Success System, which teaches investors advanced technical trading techniques to profit from bull and bear markets.
He is the author of two books: 401(k)aos and Stock Market Cash Flow, a Rich Dad Advisor book on paper asset investing.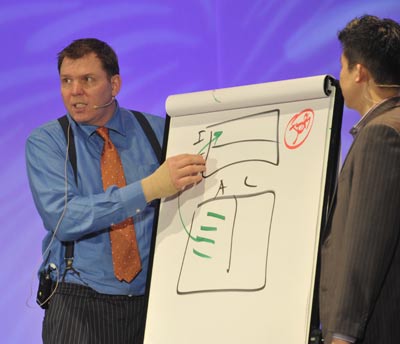 Students Love Andy's Teaching Style
Until I took this course I had no clue that you could trade options for cash flow. The "options" market was something I thought was reserved for professionals only. I am a 20 year employee of a major US corporation. I have participated in the company's 401k program since day one. Like most I thought that long positions in mutual funds were my only options. Recently it has become obvious that my retirement plan was probably not going to be where I want it to be when I want to retire.

Andy's teaching style is perfect for my learning style. I knew I was in the right place when he demonstrated on multiple occasions that he spelled as well as I did! Seriously – the numbers, formulas, charts, graphs etc. are very intimidating. Andy does an excellent job putting this all in simple, easy to understand language. His pace and repetition is perfect for the beginner. I was put at ease when he admitted that he felt the same way when he first started.

Short term, this training has caused me to question my long held beliefs related to retirement, debt, and net worth. It has ignited a desire for more information in these areas. Long term, it has shown me that I need to be an active participant ( to the extent I can) in my 401k plan. I can also see myself generating a couple hundred dollars or more in cash flow each month investing in options. I understood cash flow as it related to real estate, I can now see how the same concept is possible in paper assets. I am now "aware"!

Jeff Bailey