So many people rely on a stock market they know little about. I can think of no other place where the stakes are so high and education is so low.
Instead of packing money away in the stock market hoping for a return in years to come, you can learn how to develop a monthly income stream to pay your expenses today – and get out of the rat race if you choose.
GET THE FREE BONUS VIDEOS
In the book, Andy promised you valuable bonus videos to enhance your learning. Enter your email address now to get fast access to these Bonus Training Videos!
Free Bonus Videos
Get your FREE Bonus Videos by entering your info now
We value your privacy and would never spam you
Author, Speaker, Trainer
Andy is a renowned paper assets expert and successful business owner and investor known for his ability to teach key techniques for stock options investing. He serves as a coach to Rich Dad's Stock Success System trainers and as the Rich Dad Advisor for Paper Assets.
As a highly sought after educator, Andy has taught tens of thousands of investors and entrepreneurs around the world. He often speaks to students at the request of Robert Kiyosaki, showing how paper assets can fit into the Rich Dad system of investing. In 2008, Andy was key in helping develop and launch Rich Dad's Stock Success System, which teaches investors advanced technical trading techniques to profit from bull and bear markets.
He is the author of two books: 401(k)aos and Stock Market Cash Flow. In addition, he has created a popular training program called The 4 Pillars of Investing which gives investors a solid foundation of knowledge. He also records his weekly trading sessions with his mentors called Andy's Mentor Club for anyone to watch and see how professional investors make real investing decisions.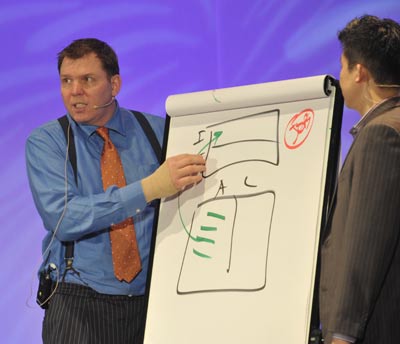 In this book you'll discover
The easy way to understand how to measure the financial strength of anything – governments, companies, even your own financial situation
How to understand trends so you'll always know what to expect next
How to position yourself to benefit regardless of the market's direction
Evaluate and manage the risk of an investment... and learn how the pros protect themselves
From Robert Kiyosaki's Introduction to

Stock Market Cash Flow

...
"Smart investors invest based upon both fundamental and technical input. This is why Andy's book is a great book. Andy draws on both fundamental and technical insights before making his investing decisions. I know because I call Andy for his guidance before I invest my money.
"And not only is Andy a great investor, he is a great teacher... which means I learn a lot every time I seek Andy's guidance."
Thousands of investors and traders are already expanding their knowledge and skills to create cash flow now and plan for a better retirement...